Colin Cowherd Says Eli Manning Should Have Been Benched Five Years Ago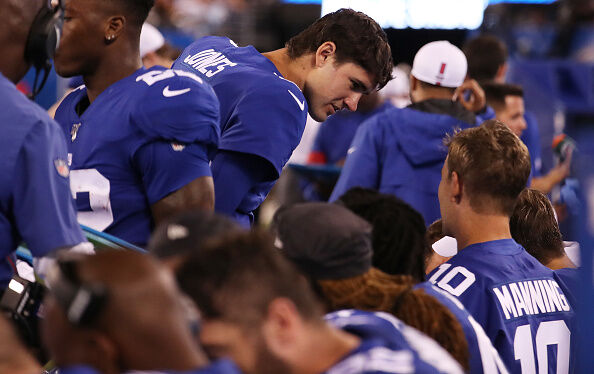 Colin Cowherd:

"If Eli Manning had played in Denver, Seattle, or San Francisco he would have been benched five-seven years ago. It's just the way the East Coast is, it has the 100-year-old baseball stadiums, the 200-year-old churches, the 700-year-old private schools, the hierarchy, the tradition, and the family trees… Out east it's hard because the Mannings are American Royalty and the Giants are a blueblood franchise. He's the old church, he's Fenway Park, there's great memories, and they couldn't bench him. He's 116-116 for his career and it's the perfect time to bench him. He can now be a mentor for the next 14 weeks. Don't go to Jacksonville for a contionional seventh round pick, you and Tom Coughlin can hang out some day on a golf course, have beers, and talk about the good ole days."

(Full Audio at Bottom of Page)
Listen to Colin Cowherd explain why he thinks Eli Manning should have benched five years ago, as the New York Giants finally turned the page on the Eli Manning era that netted them two legendary Super Bowl victories over Tom Brady and the New England Patriots.
The Giants announced Tuesday their intentions to start no. 6 overall pick Daniel Jones on Sunday versus the Tampa Bay Bucs, in a move that wasn't much of a surprise, considering how bad the Giants have looked in their two blowout losses to the Cowboys and the Bills.
Check out the video below as Colin details why he thinks a proud and timeless franchise like the New York Giants was so hesitant and sometimes even afraid to cut ties with the beloved Eli, who has steered the Giants to five losing seasons in the last six years.

FOX Sports Radio
Want to know more about FOX Sports Radio? Get their official bio, social pages & articles on FOX Sports Radio!